Saturday May 10, 2003
Members of Sacred Soul sang at Campbell's Field, home of the Camden Riversharks and helped entertain the Rutgers University crowd.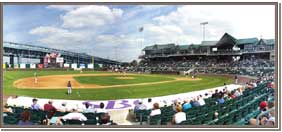 Campbell's Field in Camden, NJ
Saturday June 7, 2003
At 3 pm, at Our Lady of Mt. Carmel Church, we are happy to help John Thumm (Paul's brother) celebrate his marriage to Nina Quintieri by providing music ministry at the ceremony. We offer our praise and prayers for the start of John and Nina's new life in holy matrimony.
Friday July 11, 2003
Join us at Mt. Carmel at 7 pm for a celebration of God's word in song. We will also be celebrating the anniversary of our church and will be joined by a great ensemble of friends:
Click here for "Awaiting The Spirit"